Join us online from 21-23 April for the UK's premier annual archaeological conference as we discuss current professional issues, showcase new developments, and present research in archaeology and the wider heritage sector.

We'll be hosting 24 sessions across 3 days where we look to the future and ask what more can we do to promote the profession and our professionalism? Early bird registration will close on Friday, 19 March 2021 with student, member pricing and bursaries available.
CIfA2021 online conference portal
In registering for the conference you'll receive access to our dedicated conference platform, which champions flexibility and accessibility for attendees as well as great opportunities for virtual networking with colleagues. Our custom-built, easy to use platform features: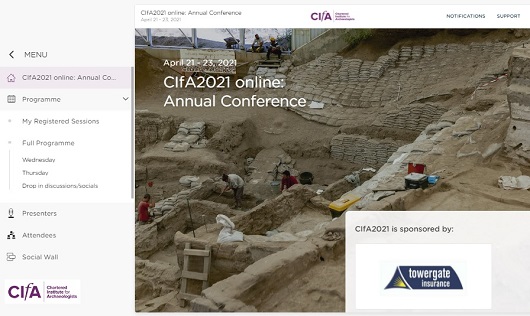 Build your own schedule - all the sessions available for the day(s) you've booked are in one place, and you can pick and choose which ones you want to attend. No need to register, wait for links in emails or keep on top of each and every link for every session. Our platform is also available as an app so you can access the conference on the go from your phone or tablet
Live sessions - access to attend and participate in all of the live sessions on the day(s) that you've registered for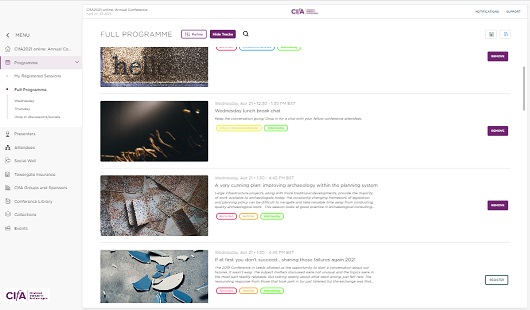 On-demand and 90-day exclusive access to all of the recorded sessions for the day(s) you've registered - this gives you the flexibility to view sessions at your own pace or fit in with work or personal commitments. Choose to attend live sessions, watch the ones that you missed, go back and watch the ones that clash with that session you're viewing live, take a break when you need to, or return to watch the session again anytime you'd like - the site will be live for 365 days!
Connect with other conference delegates - complete your profile, add a biography, view our attendee list and then send a request to connect. Network and make new contacts with text chat and integrated one-on-one or group video calling
Get social - access to our virtual drop in 'chat cafes' during lunch breaks and our evening discussion sessions. Continue the conversation, catch up, meet other delegates or chat about other relevant topics
Conference programme
Our official programme will be announced in the coming weeks, featuring sessions such as:
Adapting training and skills development for a COVID and post-COVID world

The COVID-19 pandemic has had a significant impact on how we as a sector deliver training and support skill development. Covid working practices has restricted the delivery of field schools and has limited the ability for archaeologists to travel to or attend practical training opportunities.
Much of the training which has taken place has moved to online delivery and we also know of examples where some institutions and organisations have adapted their methods of training to be delivered in COVID times. Going forward, what practice or methods that have been developed in 2020, do we, as a sector, wish to keep?

The environment and innovation - zero emissions and the paperless dream

As a profession we need to plan now for both our future, and that of the planet. The session is bifocal looking to explore the ways in which we can change our behaviours and practices to bring down emissions as well as the applications of technology towards 'paperless' working.
More specifically it looks to understand how we can create sustainable solutions through site recording, mobile apps, challenges in archiving, energy efficiency/green energy and modified working practices.

Session sponsored by:


#Create, share + engage. An archaeologists guide to digital content and social media

How do we create digital content such as YouTube videos, podcasts and virtual events and then harness tools such as Facebook, Instagram and Twitter to share and engage effectively? How do you use these tools to proactively challenge misconceptions, more accurately depict our profession and communicate the wider value of our work?
This practical session will consider and explore the role that social media platforms and digital content play in promoting the profession to the public through a series of presentations from content creators and social media strategists who will share their insight into digital engagement in the heritage sector.

A very cunning plan: Improving archaeology within the planning system

Large infrastructure projects, along with more traditional developments, provide the majority of work available to archaeologists today. The constantly changing framework of legislation and planning policy can be difficult to navigate and take valuable time away from conducting quality archaeological work.
This session looks at good practice in archaeological consulting and contracting, from re-thinking the DBA to developing a research-based strategy for mitigating impacts of road and rail schemes and incorporating the historic environment into urban redevelopment and housing allocations. This session aims to present an overview of good practice and lessons learnt from planning-based archaeology, the role of early engagement, and innovative approaches to programming archaeological works.

Stuck between a rock and a hard place: defining the role of buildings archaeologist

What is Buildings Archaeology, and how can we expect those our profession to value what we do? It is a sub-topic within the wider archaeological discipline, although buildings are an integral part of how landscapes and settlements have developed since the medieval period. This seminar aims to engage with the question of how we can better integrate with the wider archaeological profession, to encourage greater collaboration and how we can promote buildings archaeology to the wider conservation industry and for others involved in planning for and discovering places.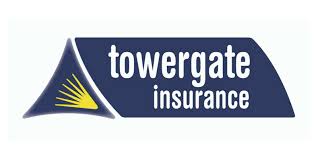 CIfA2021 is sponsored by Towergate Insurance