CIfA2023 LIVE Sustainable futures – standards, skills and the profession
CIfA is delighted to announce that the CIfA2023 conference will be hosted from Wednesday, 19 April - Friday, 21 April 2023. We intend to host CIfA2023 as a livestreamed conference, hosted live in Nottingham UK and streamed online. We hope this will offer attendees the same flexibility they experienced in 2022, but learn from our experiences to allow for the best digital user experience.
This is registration for the live conference in Nottingham. If you wish to register for the exclusively online event, please do so here.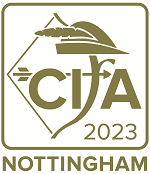 Sponsored by Towergate Insurance
CIfA2023 will incorporate keynote addresses, wide-ranging sessions and training workshops in a live and virtual forum. Across the conference, we will discuss current professional issues, showcase new developments, and present research in archaeology and the wider heritage sector. Our conference is the premier professional archaeological conference in the UK, attracting hundreds of participants across the heritage environment sector.
Venue
We are very excited to be able to hold CIfA2023 at the Crowne Plaza in Nottingham.
Agenda
| | | |
| --- | --- | --- |
| Wednesday 19 April | Thursday 20 April | Friday 21 April |
| 10:00 Registration & refreshments | 09:30 Breakout sessions | 09:30 Breakout sessions |
| 11:00 Welcome & opening address | 11:00 Tea & coffee break | 11:00 Tea & coffee break |
| 13:00 Lunch | 11:30 Breakout sessions (con't) | 11:30 Breakout sessions |
| 14:00 Breakout sessions | 13:00 Lunch | 13:00 Lunch |
| 15:30 Tea & coffee break | 14:00 Breakout sessions | 14:00 Closing session |
| 16:00 Breakout session (con't) | 15:30 Tea & coffee break | 16:00 Depart |
| 18:00 Wine reception & dinner social | 16:00 Breakout sessions (con't) |   |
|   | 19:00 Optional evening activities |   |
Programme details can be found on the conference homepage here.
Social Programme
All details for our social programme can be found here. Social programme tickets can be booked on the conference registration page.
Wine reception & dinner - Malt Cross
We would like to invite all delegates to attend our wine reception on the first night of the conference and continue the day's discussions. It is free to attend and there is no need to book.
Please book your place for an informal networking meal, enjoying a variety of food & drinks for £17 per person. The Malt Cross will be providing a buffet style spread with options available for dietary requirements.
Evening optional booking - Nottingham pub walking tour with Robin Hood
Join Nottingham's own Robin Hood for a walking tour of some of Nottingham's historic sites, stopping at quality local pubs along the way. Please book your place for a walking tour for £12 per person, tour is capped at 25 participants.
Registration
Registration opens in January 2023. Early bird registration will be available until the 12 March 2023. Fees will be increased after that date until registration closes.
Refunds
A full refund may be given on cancellations up to one week before the event. Within one week, a 50% refund will be given up to the day before your attendance. Once the conference has started, refunds may only be given in exceptional circumstances. To request a refund, please email us at conference@archaeologists.net.
April 19th, 2023 10:00 AM (BST/UTC+1) to April 21st, 2023 5:00 PM (BST/UTC+1)
Crowne Plaza Nottingham Hotel




Wollaton St




Nottingham

,

NG1 5RH




United Kingdom