CIfA2020
Our conference is the premier professional archaeological conference in the UK, attracting over hundreds of participants over three days. This year we are hosting our event in Bath.
Based on the outcome of the government's COBRA meeting about COVID-19 on Monday, 16 March 2020, we are sorry to say the CIfA conference will be postponed. We will be contacting any individuals or organisations who have made bookings for conference.
We will shortly be in touch with further information and additional details relating to CIfA2020.
Thank you for your patience in this challenging time. Please do your best to keep yourselves and your communities safe.
For further advice and information regarding COVID-19, please visit https://www.archaeologists.net/practices/coronavirus.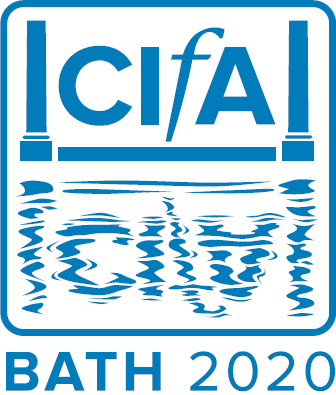 Sponsored by Towergate Insurance
Theme
At CIfA2020 we will be looking to the future and asking what more can we do to promote the profession and our professionalism. Over the last decade we have defined new entry routes into archaeology and set out the career structures and competence requirements for professional archaeologists, but how can we maximise these to attract new, and diverse, talent and promote the value and quality of the work we do? Where can we further develop and reinforce the standards and good practice championed by the Institute to ensure we consistently understand and meet our professional obligation to deliver public benefit? And how, as a profession, can we better equip ourselves with the ethical and professional knowledge, skills and behaviours required in a changing, and challenging, environment? None of these are new concepts, but ones that we must all engage with.
Venue
We are very excited to be able to hold CIfA2020 at the Apex City of Bath Hotel. The first purpose-built conference facility in city of Bath provides a fully-accessible venue with close access to local accommodation and social venues.
Agenda
| | | |
| --- | --- | --- |
| Wednesday 22 April | Thursday 23 April | Friday 24 April |
| 10:00 Registration & refreshments | 09:30 Breakout sessions | 09:30 Extraordinary General Meeting |
| 11:00 Welcome & opening address | 11:00 Tea & coffee break | 11:00 Tea & coffee break |
| 13:00 Lunch | 11:30 Breakout sessions (con't) | 11:30 Breakout sessions |
| 14:00 Breakout sessions | 13:00 Lunch | 13:00 Lunch |
| 15:30 Tea & coffee break | 14:00 Breakout sessions | 14:00 Breakout sessions (con't) |
| 16:00 Breakout session (con't) | 15:30 Tea & coffee break | 15:30 Depart |
| 19:00 Wine reception & dinner social | 16:00 Breakout sessions (con't) |   |
|   | 19:00 Disco social |   |
Programme details can be found on the conference homepage here.
Social Programme
Please find all details for our social programme here. Social programme tickets can be booked on the conference registration page.
Welcoming reception & dinner - Bath Brew House
We would like to invite all delegates to attend our welcoming reception on the first night of the conference and continue the day's discussions. It is free to attend and there is no need to book. Please book your place for the following networking meal, enjoying a two-course pub meal and drink for £25 per person.
Disco - Komedia
Please book your place for a buffet and DJ for £20 per person.
Professor John Schofield (University of York) will be represented at the conference by his alter-ego Hippocampus, performing a DJ set for the conference party on Thursday night. As always, Hippocampus will have something for everyone, reflecting the DJ's own musical tastes, from pop to techno, punk to disco and glam to heavy rock...
Registration
Registration opens in December 2019. Early bird registration will be available until 15 March 2020. Fees will be increased after that date until registration closes.
Accommodation
Bath is a popular destination and prices can increase dramatically as the city gets busy in the springtime. We encourage all conference attendees to book their accommodation well in advance.
We have been provided a custom accommodation booking portal by Visit Bath. This includes a wide range of hotel options, but is by no means exclusive. Bath is also home to a Travelodge, Premier Inn, as well as other budget and independent hotels, some of which may not come up on Booking.com or other sites.
Refunds
A full refund may be given on cancellations up to one week before the event. Within one week, a 50% refund will be given up to the day before your attendance. Once the conference has started, refunds may only be given in exceptional circumstances. To request a refund, please email us at conference@archaeologists.net.
Prices listed below are non-member pricing. CIfA members receive a 30% discount which will be applied on the booking page.
| | | |
| --- | --- | --- |
| Membership | Single day (per day) | All three days |
| Non-member | £160 | £365 |
| CIfA member | £100 | £245 |
| Student/unwaged | £60 | £130 |
April 22nd, 2020 10:00 AM to April 24th, 2020 3:30 PM
Apex City of Bath Hotel




James Street West




Bath

,

Somerset

BA1 2DA




United Kingdom
| | |
| --- | --- |
| Late Registration | |
| Wednesday | £ 170.00 |
| Thursday | £ 170.00 |
| Friday | £ 170.00 |
| 3 Day Booking | £ 385.00 |
| Social Events | |
| Wednesday night dinner - Beef | £ 25.00 |
| Wednesday night dinner - Fish | £ 25.00 |
| Wednesday night dinner - Vegan | £ 25.00 |
| Thursday night dinner & disco | £ 20.00 |
| | |
| --- | --- |
| Late Registration | |
| Wednesday | £ 170.000000000 |
| Thursday | £ 170.000000000 |
| Friday | £ 170.000000000 |
| 3 Day Booking | £ 385.000000000 |
| Social Events | |
| Wednesday night dinner - Beef | £ 25.00 |
| Wednesday night dinner - Fish | £ 25.00 |
| Wednesday night dinner - Vegan | £ 25.00 |
| Thursday night dinner & disco | £ 20.00 |